Welcome to the 2014 Grand Slam website!
GrandSlamAm.com is your online gateway to the annual Grand Slam Amateur Golf Tournament located in Grand Rapids and Coleraine, MN. Every year the event continues to grow and is becoming one of the premier Minnesota golfing events for amateurs. The 2014 event is scheduled for Friday-Sunday August 15-17.

Welcome to the 2014 Grand Slam Amateur Golf Tournament. (Pokegama and Eagle Ridge Golf Courses of Grand Rapids and Coleraine host this popular three day two person team event.
There are two Divisions:
Men's Two Man Teams
Ladies Two Gal Teams
Handicaps:
Teams are flighted by the lower handicap of the two partners. (USGA or equivalent)
Prizes:
Merchandise prizes at the course you play Sunday. Must be redeemed in 2014. No carry-over to 2015. Over $20,000 awarded in 2013.
Excellent Payout!
Format:
Friday: BetterBall
Saturday: Scramble
Sunday: Chapman Alt Shot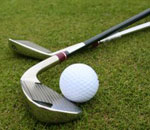 Teams will play Eagle Ridge and Pokegama Golf Courses

2014 Saturday Events at Pokegama: Long Drive Contest-Men, Women, Senior divisions. Pitching Contest- Men and Women Divisions. Putting Tournament Match Play finals. Cash Payout. Dinner.

Entry Fee: $180.00/player $360.00/team (checks only. NO CREDIT CARDS) Earlybird discount available until May 30. $160/player. Entry Fee for Pokegama, Eagle Ridge and Sugarbrooke season pass holders: $150.
Sign up now!


2014 Results:
2014 Grand Slam Am Results
---
2014 Putting Results
Please install Flash® and turn on Javascript.
2014 News:
2014 Saturday Gala is at Pokegama. Long Drive Contest Pitching Contest, and Putting Tournament Finals. Cash payout for these events.